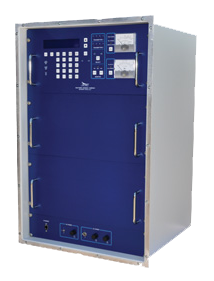 &nbsp - &nbsp Single SE-125 NDB System
&nbsp - &nbsp Dual SE-125 NDB System
&nbsp - &nbsp Dual SE Series NDB Systems : 250W, 500W & 1000W

The SE Series NDB transmitter uses state of the art technology including powerful Renesas© Microcontrollers and Analog Devices© Direct Digital Synthesizers to provide accurate beacon signals in power ranging from 10 Watts to full rated carrier power.
Complies with the Essential Requirements of Council Directive 1999/5/EC on Radio Equipment and Telecommunications Terminal Equipment. Meets all applicable requirements of ICAO, FCC, and FAA. CE mark and ANATEL Certified.
The frequency range of SE-120 NDB system is 190-650 kHz, (optionally available in three system bands650 to 1250 kHz and 1500 kto 1800 kHz). Synthesized (field programmable), no additional parts needed within the band. The SE provides simplified set-up & maintenance procedures, comprehensive BITE, and full Ethernet capability. The Transmit output power is adjustable between 5 to 125 Watts. The system can work either with main 115/230V =/- 15%, single phase or optional 48VDC. All operations are controlled from the front panel membrane keypad. Results of all operations are visible on a bright LED backlit Liquid Crystal Display (LCD) comprised of 4 lines of 40 characters each using White characters on a Blue background. Analog Meters displaying forward & reflected power, Voltage & Current in the final amplifier stages as well as modulation indication are provided.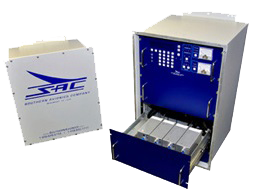 Customers can monitor and control their beacons from anywhere in the world and from various points on their Local Area Network (LAN). All front panel functions are available at the customer's remote panels or computer screens. Interface options include fiber, radio link, copper wire, dial-up or leased line modems.
The SE transmitter also includes a comprehensive Built-In Test Equipment (BITE) section. From the comfort of the customer's computer terminal, troubleshooting the SE series of NDB's has never been easier. By using the technical manual provided with the NDB, a problem can be diagnosed to module level. Simple module exchanges can then be made in the field. Southern Avionics offers a Module Exchange program for our customers either direct from the factory or through one of our worldwide dealers.
The SE series NDB transmitter combines extremely high reliability with modularity in design. SE NDB Transmitters are available in 125 Watts (i.e. 10-125W) , 250 Watts (i.e. 25-250W) , 500 Watts (i.e. 50-500W) and 1000 Watts (i.e. 100-1000W).

NDB transmitter dimentions for diffrent options are as follow:
&nbsp - &nbsp Single SE-125 : 24" H x 21" W x 19" D (61 cm x 54 cm x 48cm)
&nbsp - &nbsp Dual SE-125 : 33" H x 21" W x 19" D (84 cm x 54 cm x 48cm)
&nbsp - &nbsp Dual SE-250 : 41" H x 25" W x 21" D (104 cm x 62 cm x 54cm)
&nbsp - &nbsp Dual SE-500 : 41" H x 25" W x 21" D (104 cm x 62 cm x 54cm)
&nbsp - &nbsp Dual SE-1000 : 68" H x 32" W x 21" D (173 cm x 80 cm x 54cm)

Please see below "ORDERING INFORMATION" for diffrent options and relevant part numbers.