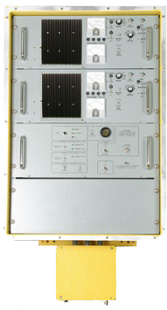 &nbsp - &nbsp Single SA-100 NDB System
&nbsp - &nbsp Dual SA-100 NDB System

The SA100 Dual, IP66 EC transmitter has an adjustable output power up to 100 Watts. The SA100 Dual consists of two independent SA100 transmitters and an Automatic Transfer unit housed in a single cabinet.
Complies with the Essential Requirements of Council Directive 1999/5/EC on Radio Equipment and Telecommunications Terminal Equipment. Meets all applicable requirements of ICAO, FCC, and FAA. CE mark and ANATEL Certified.
The frequency range of SA-100 NDB system is 190-535 kHz, (optionally 190 to 1800 kHz in three system bands of 190 to 535 kHz, 520 to 1250 kHz, and 1500 to 1800 kHz). Synthesized (field programmable), no additional parts needed within the band. The Transmit output power is adjustable between 5 to 100 Watts. The system can work either with main 115/230V =/- 15%, single phase or optional 24VDC or bothe with switch over to batteries. Nominal input power is 180W at 100W carrier and keying at 95% modulation. Metering is available for Power output, refl ected power, PA voltage, PA current, percent modulation, audio input level. the manufacturer guarantees that the Spare Parts, Technical Support and Service will be available for purchase for a minimum of Ten (10) Years from the date the last SA unit is sold.
The SA series NDB transmitter combines extremely high reliability with simplicity in design. SA NDB Transmitters are available for 100 Watts.

NDB transmitter dimentions for diffrent options are as follow:
&nbsp - &nbsp Single SA-100 : 24.12" H x 21.12" W x 16.5" D (61.1 cm x 53.6 cm x 41.9cm)
&nbsp - &nbsp Dual SA-100 : 31.75" H x 21" W x 15" D (80.6 cm x 53.3 cm x 38.1cm)
&nbsp - &nbsp 0 button CB (Hotline Telephone)
Please see below "ORDERING INFORMATION" for diffrent options and relevant part numbers.